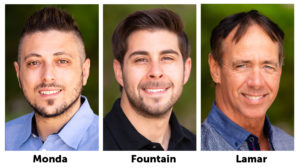 In its May 2021 issue, Frontiers in Plant Science published a research article by BHN Humic R&D Lab scientists Dr. Hiarhi Monda, Ryan Fountain, and Dr. Richard T. Lamar in collaboration with Dr. Amy McKenna of the National High Magnetic Field Laboratory, Ion Cyclotron Resonance Facility, Tallahassee, Fla.
The research, titled "Bioactivity of Humic Acids Extracted from Shale Ore: Molecular Characterization and Structure-Activity Relationship With Tomato Plant Yield Under Nutritional Stress," revealed an unprecedented level of molecular characterization made possible by means of ultra-high resolution ion cyclotron mass spectrometry, providing a more comprehensive understanding of individual components of humic substances involved in enhancing plant productivity.
A detailed characterization of chemical composition becomes critical as new government regulations of biostimulant products will require the elucidation of the mode of action in order to supply farmers with effective product claims based on science.
The objective of this study was to investigate in detail the chemical features of humic acids (HAs) extracted from sedimentary ore with the aim of exploring the potential relationship of chemical functions with biostimulant activity and to evaluate the extent to which the priming effect of HAs on tomato plants under nutritional stress was reflected on the yield gains. 
The results of this study proved the biostimulant efficacy of humic acid application that improved nutrient use efficiency and at the same time alleviated the nutritional stress condition. All tomato plants treated with humic acids showed faster adaptation to stress conditions, particularly when nutrient deficiency occurred. Plant growth and tomato yield increased when provided with humic acids under low nutritional doses, and tomato fruit quality was improved under all humic acid treatments.
The increased antioxidants production under humic application has been correlated to the presence of specific molecules in the humic extract. These molecules, such as quinones and flavonoids, can act as both antioxidants and pro-oxidants that can trigger the plant defensive system, ultimately leading to a fast and effective response to nutrient deficiency with a consequent enhancement of plant morphology and productivity.
Among the study's conclusions are that plant pre-conditioning with humic substances might represent an important determinant in the adaptive plant defense response and an effective strategy to improve nutrients management and plant yield.
The complete open-access article is available at https://www.frontiersin.org/articles/10.3389/fpls.2021.660224/full.